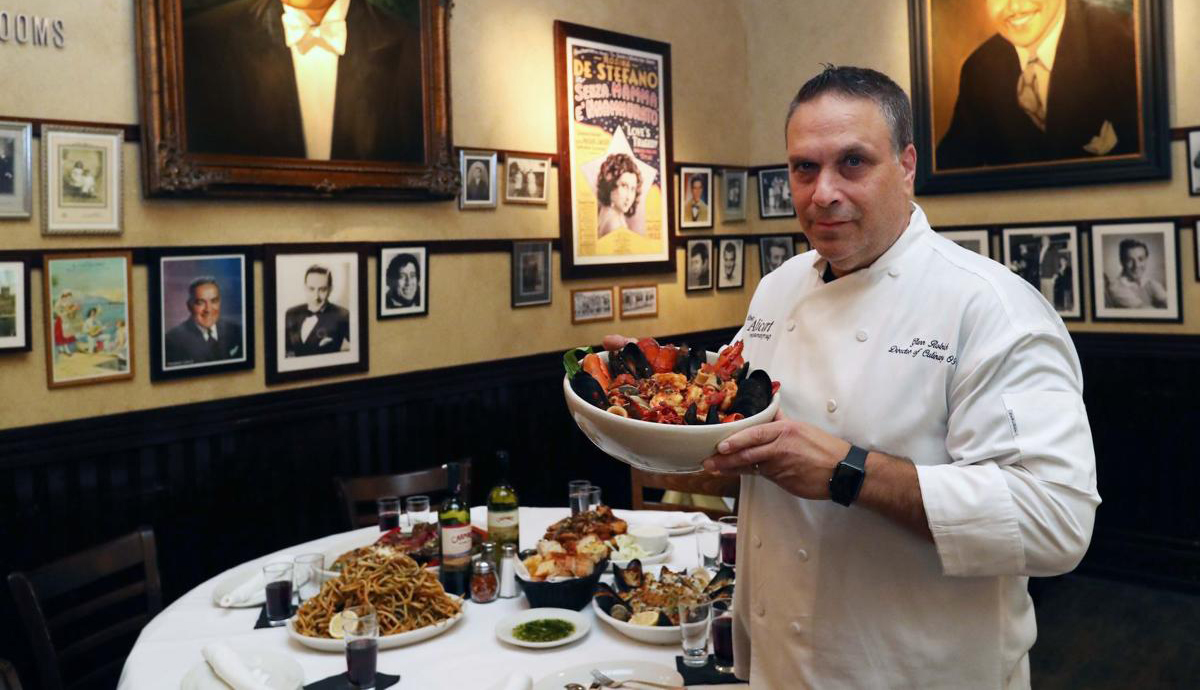 Carmine's Succeeds with Massive Portions and Consistent Flavors
Carmine's succeeds with massive portions and consistent flavors
by SCOTT CRONICK
Up until 13 years ago — and since 1990 — what happened at Carmine's in New York stayed at Carmine's New York.
But its ownership, particularly CEO Jeffrey Bank, knew Carmine's had what it took to expand off the island, confident that its scratch kitchen approach to old-fashioned, family-style Italian cuisine that, as the New York Times said in founder Artie Cutler's obituary, serves "huge platters of spaghetti and meatballs, rivers of marinara sauce and mountains of garlic" would work in any city that hosted high volumes of people.
They were right. Carmine's hasn't just succeeded in Atlantic City, it has thrived, setting a model that led to the addition of four more locations in Washington, D.C., the Atlantis in the Bahamas and its latest and biggest yet, a 28,000-square-feet, 800-seat monstrosity in The Forum Shops at Caesars Las Vegas, the biggest restaurant in Vegas that is not also a nightclub.
"It turned out coming to Atlantic City was a good move," Bank says. "Atlantic City is very unique with tremendously high volume. But to go off the island for the first time was a tough choice until the Tropicana came to us. They were expanding with The Quarter and the Havana Tower and, unlike a place like Borgata that runs the brands, we wanted to control and own our own restaurant. We were uncomfortable turning the brand over to someone else. We wanted to control our own destiny. And the fact that it was two hours from New York was perfect so we could be in total control."
Carmine's Atlantic City proved that its legendary chicken parmigiana pounded thin and smothered in cheese and red sauce ($33.95), calamari ($30.95) and Caesar salad ($29.95) would be the same in Atlantic City as it was in New York. And that goes for the dozens and dozens of dishes on its menu.
"It has to be the same no matter where you go," Bank says. "And it is. My people hate when I say this, but we don't have to be the best, but we have to be the most consistent."
Consistency may be the perfect word, with Glenn Rolnick, director of culinary operations, making sure every plate is up to standard. Every giant platter of chicken Scarpariello ($36.95) — braised, marinated chicken with garlic, rosemary, sage, oregano, white wine and olive oil — heaping plate of linguine with red or white clam sauce ($33.95), and homemade Italian cheesecake ($25.95) and tiramisu ($23.95) is the same whether in A.C. or the Bahamas. And that's no easy task.
"A.C. was proof we weren't drinking our own Kool-Aid, that we won't sacrifice quality and that we can replicate the scratch kitchen in New York. When we proved that, we had a chance to do one in D.C., and so on and so forth," Bank says.
Consistency is also the key to the experience. Sure, some staffers may change, even though a good amount are Day One employees, but the menu really hasn't changed that much in 27 years.
"The irony is nothing changes in Carmine's world," Bank says. "We haven't had a new menu item in 14 to 15 years, and that was when we added the Scarpariello wings ($29.95) after one of our employees was playing around with wings for the Super Bowl and made them Scarpariello style. So we added them to the menu, even though we have been doing the whole chicken Scarpariello from the beginning."
On an average Saturday night, 1,700 people might go through Carmine's A.C.'s doors, and if you went from table to table with a fork and tried every penne alla vodka ($35.95), they would taste identical.
And while Carmine's might be known for its amazing meatballs the size of fists — and Atlantic City Weekly's 50 Bites item this year — lobster fra diavolo and house specialties like the rack of lamb on Tuesdays and the amazing beef tenderloin surrounded by a pound of creamy mashed potatoes in a delicious beef gravy on Thursdays, Bank encourages people to get adventurous.
"Order the salmon oreganato or the porterhouse," Bank says. "They were butchered by us. The salmon is just amazing, and the porterhouse Contadina style is surrounded by a pound of sausage, potatoes and peppers that is a meal unto itself. There are some nice nontraditional dishes there for those who want to break away from the norm."
Oh, and those portions. The porterhouse, for example, is 48 ounces. The beef tenderloin is 20 ounces. Each plate of pasta weighs in at about 2 pounds, while every chicken and veal dish will get you meat wasted just looking at it … all for the price of what gourmet restaurants charge more money for, while giving you way, way less. It really is one of the most value-conscious restaurants in the city when you eat with at least a party of four.
"It's the best place to pick up a check," Bank says. "Think about it, if you order a Caesar salad, a penne alla vodka, a chicken parm and a cheesecake, you can feed six to eight people with that. They way I look at it, you can go out as a party of four, add two people to your party and pay no more. And then you can take home all of the leftovers — and there will be a lot — and polish them off a day or two later. I see six people come in and order a salad and a pasta and they are out for $10 a person."
Some other hidden gems diners should discover include the stuffed mushrooms ($20.95), the amazing spiedini alla Romana ($24.95) — think a layered Italian grilled cheese in an anchovy sauce — and the hot and cold antipastos ($37.95 and $33.95, respectively), which are meals unto themselves and a sight to behold.
The cold antipasto features seafood salad, prosciutto cotto rolls, marinated cremini mushrooms, grilled zucchini and red peppers, lentils and vegetable salad, grape tomatoes and fresh mozzarella, house-cured salmon with lemon mascarpone, focaccia sandwiches and a giant Romano and black pepper flat bread wrapped with thinly-sliced prosciutto.
The hot antipasto features scrumptious mussels Fra Diavolo, clams oreganata, eggplant rollatini with asparagus, stromboli with chicken sausage, spinach and cheese, Italian sausage and broccoli rabe, mozzarella en Carozza, fried ravioli and an amazing spinach and artichoke dip.
"Yeah, they have a certain wow factor, and if you order the spiedini, make sure you order the Lipitor cheesecake to offset it," Bank jokes.
If you ever meet Bank and ask for something out of the ordinary, he probably won't advise you.
"It's the same menu forever," he says. "If I asked you to go eat there and you got one amazing dish and then went back and it wasn't on there, you would be disappointed. There are a lot of Italian restaurants and a lot of people have their own family recipes from their grandmother, but we will be consistently good and the same. It's how we built our business for 27 years.
"Atlantic City has had its ups and downs, but we haven't had a single down year in Atlantic City since we opened, including Trop going through bankruptcy, Superstorm Sandy and other issues," says Bank, whose Atlantic City Carmine's is one of the highest-grossing restaurants in the country at 81; Carmine's Times Square is No. 3. "People just appreciate good food at reasonable prices."
A short history of Carmine's
The first Carmine's opened in 1990 when restaurateur Artie Cutler — who was also a real estate genius — wanted to offer great Italian food at a value on Broadway near 91st Street, at a time when nobody wanted to open above 86th Street, according the New York Times.
The giant "wow factor" platters of Italian-American food meant for sharing were an immediate success, resulting in an expansion of an additional restaurant near Times Square.
The classic décor of hardwood floors and vintage photographs offering elements drawn from America's "Golden Age" make it feel like New York City in every Carmine's, which now has six locations with plans for more.
Carmine's is owned by the Alicart Restaurant Group, which also owns the Virgil's Real Barbecue and Artie's Delicatessen brands.